Looking for small business web design services? Well, you have come to the right place. At Cloudy Mouse we follow the principle that the websites we create should look amazing no matter the budget. We can work with anyone, so how about learning a little bit more about us.
Lansing Based Cloudy Mouse
Cloudy Mouse is a design company based out of Lansing, Michigan that offers affordable small business web design services. Whether you need a website built from scratch or an update to an existing website, we have you covered. We do not believe in hidden fees or tacking on additional services. What you see is what you get, great small business web design services. Our service does not end after your website is created. After your website is up and running, we continue to work on growing the presence of your business online; incorporating a complete online marketing approach. We work hard online so that you don't have to. There are enough tasks involved with running or operating a small business. Let us handle the online side of your operation. Take a look at some of the small business web design services we can offer you: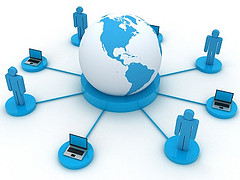 Complete Website Design (Fast loading websites without any bloat)
Logo and Graphic Design (Update an existing logo or create a new one)
Social Media Integration (Connect with customers through Facebook, Google+, and Twitter)
Custom Web Based Applications (Custom content management systems to make tasks easier)
Blogging Capabilities (Keep customers informed with our own blogging features)
We are your eyes in the sky, keeping your business in the cloud.
A Growing Number of Consumers Use Mobile Devices
Our intent is to create responsive website designs that work well across all devices. In re

grow your small business

learn more about the creation of a business blog

cent years, the number of individuals using mobile devices to browse the web and look for services has increased to include 20% of the online market. That is a huge chunk of consumers that you do not want to miss out on. When a website is not optimized for viewing on mobile devices, the resulting web pages can be completely unreadable on mobile screens. Gone are the days of creating a separate mobile website. We use responsive web design in all of our small business web design services.
Reach New Heights
Without a good presence in the cloud, a business can suffer. You could over-look thousands of potential new customers. Getting your business seen by thousands of visitors is a great way to grow your business. The fact that you are reading this means that you are taking the right step forward. Having a strong presentation of your business will not only helps you to attract new customers; you will also be able to keep existing customers up to date with your services and products. Go ahead and contact us today so that we can begin discussing how your business can be taken to the next level.
Where do you see your business? We see it in the cloud.
Contact Us Today!