If you are building a website and are not very familiar with HTML, CSS, Javascript, or PHP, then creating a website from scratch may not seem like a viable option. This is especially true considering all of the different website template sites available to home users. These sites, such as Wordpress, Drupal, and Soup, allow users to create a website using existing templates and plugins. This is useful for those that do not want to spend the time making their own website from scratch. The problem with these sites is that you are giving up a certain level of control, limiting what you are able to accomplish or include on your website. You can run into problems with compatibility and support for additional applications. Creating your own website lets you know every aspect of it and tailor it to suit your needs and it is not very difficult. The first place to start is with the general layout of the website that you plan on creating.
Coming Up With A General Layout
The main focus of your website should always be ease of use for the end user. You want them to be able to quickly identify your main content, supplementary content, and advertisements. Before you start creating your own website, it is a good idea to have a basic concept of how you want your website to be laid out. Consider what type of content you are going to include. Is there going to be a lot of supplemental content, such as Twitter or Facebook feeds, page or category navigation, or advertisements? If so,then you might want to have a sidebar to store some of this content. Also, think about how you want your menu to look and the colors that you want to use for your site.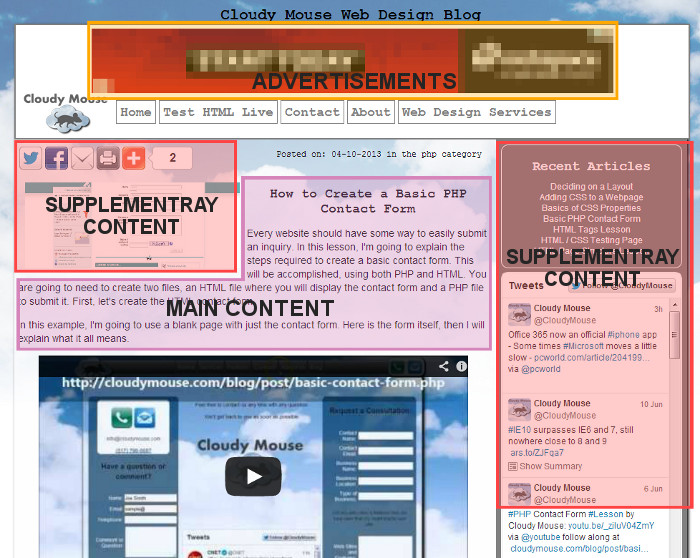 When you create your own website, you should try to limit the primary colors of your website to several complimentary colors. If you need help figuring out what colors compliment each other, consider using a website that provides this information. Visiting color-hex.com will provide you with colors that complement the color that you chose, as well as different shades of the same color.
Next, decide whether or not you want to include a header. A header is what you see at the top of most websites. It typically contains a logo on a background with the website's slogan, catch phrase, or what the website is about. The best way to get an idea of how headers normally look is by visiting websites. A great method of browsing many websites quickly is to use StumbleUpon. After selecting several different categories to follow, StumbleUpon will provide you with suggested websites. Simply browse through each site to get a general idea of how these sites are laid out.
Sketch a Layout
If you would prefer, you can sketch out the layout for your website before you start creating your own website. This might help you stick with your initial concept; though, it is not required. Sometimes the best way to tell if you like your layout is to create it and see how it looks. Also, at this point of creating your own website, you do not need to worry about mobile support. Once you create your website, it is actually relatively easy to turn it into a responsive web design that looks great across all devices. The focus should be on how it will end up looking on a desktop screen.